Redemptorist, Baclaran, Philippines
The Shrine is home to about 500 volunteers helping in various programs and services of the shrine. Most of the volunteers offered freely their time and effort first and foremost out of their devotion to our Mother and their strong sense of service to others. In spite of the big number of volunteers , the shrine still needs volunteers. With the big number of devotees, the many programs and services of the shrine can only run through the generous efforts of many volunteers. If you have the heart of service and wish to express your affection to our Mother by joining our services, check out the different programs of the shrine and see where you can put to good use your talents.
You can donate in person to our various programs and services by bringing your donation to our shrine's front office. Please always ask for an official receipt.
Or you can deposit on our bank account listed below: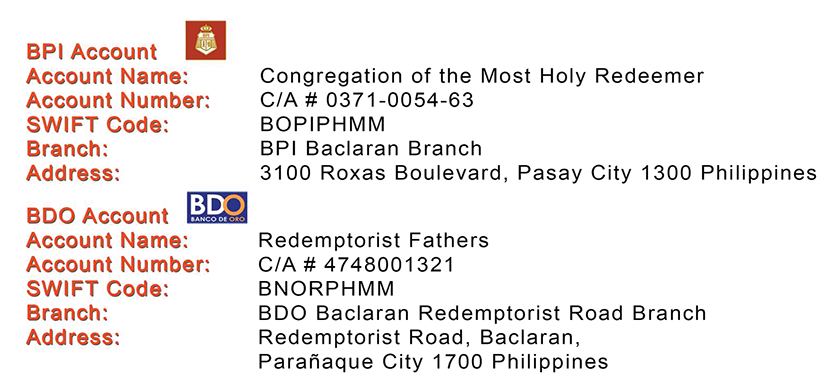 After you made a donation through our bank account please fill up the form below. We can send you the official receipt by email or you can pick it up at our front office.
Thank you very much for your generous donation. Your donation will help more poor devotees through our various services and programs.